3
goals: quality, origin, traceability
MUL Group master and integrate the natural plant raw material supply chains:
Reliable, secure and responsible supply which guarantee certified origin and full traceability.
Selection of the best quality in plant materials.
Each contract or agreement includes an ethical and good conduct charter.
Monitored and transparent information on markets and their development.
We support local sectors of production in the South of France Region (PACA) by offering long-term supply contracts with agricultural producers.
This is the case with our fruit supplies such as cherries, peaches, apricots, kumquats, etc.
In collaboration with local producers, thus promoting short circuits and enhancing the fruit that is discarded by "food" trade; during the appropriate season, crates and paloxes of apricots, peaches, plums, raspberries and even cherries feed our extractors and stills.
This palette of senses and fragrances is enriched by the different technologies used on site, hydro-alcoholic maceration, fruit water, distillation or ultrasound extraction, so many possibilities in a more creative way for our R&D department and our flavourist customers. These flavouring preparations will be addressed for flavour formulations or directly used as extracts to incorporate into food or use in cosmetics.
Rose centifolia, Orange Blossom, Lavender, Mimosa, these flowers are emblematic of Grasse.
Cultivated in the plains, on the coastal lines or on the high plateaus of the area, if these aromatic and medicinal scent plants (PPAM) have made the wealth of our territory since the 1960s, the cultivated areas have greatly reduced, some crops having even disappeared.
As part of the agricultural revitalization of the territory's policy, in line with our Social Responsibility approach, and with the aim of setting up a reliable, secure and responsible supply, we are committed alongside to the Agglomeration Municipalities and Communities , on setting up agricultural programs. All the new plantations are therefore part of a sustainable development approach and will be certified organic.
Cypress, Petitgrain, Violet leaf, do not think that they are flowers, as these are the branches, leaves and pruning wood that we load in our extractors and stills. Extracted or steam distilled from these materials, enhancing pruning wood is a tradition and a historical local know-how of the aromatics from Grasse.
Relaunching these sectors allows us to engage alongside local environmental initiatives working to recover organic waste. Establishing local partnerships allows us to ensure the traceability and quality of plants with a circular economical aim.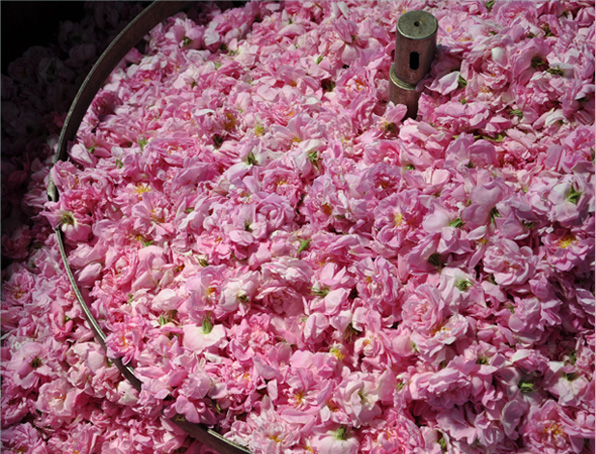 For more than 10 years, we have been working with a local partner, in full transparency, in supporting and developing the Rose damascena in Bulgaria in the Kazanlak region. Nearly 100 seasonal pickers meet each year in the Rose Valley to start harvesting for 3 weeks between late May and early June. More than 20 hectares of organic roses are cultivated by our partner. The freshly opened damascena Roses are then processed at the distillation site near the production plots to create an organic damascena rose essential oil & floral water.
In Bulgaria, our local partner cultivates fine angustifolia lavender, chamomile, sage and lemon balm, guaranteeing full traceability from the production of the plant material to its distillation in essential oils. The sectors are entirely traced, organic and integrated into a sustainable development program. Some flowers or plants are dried locally and imported to our sites in France to produce floral waters such as cornflower, meadowsweet, melissa, etc.
Located in the heart of the Balkan mountains in Bulgaria, our Cep mushroom (Boletus Edulis) chain is the result of wild and responsible harvesting. We ensure traceability in the harvesting and drying of Boletus Edulis from June to November on its processing site. The sector helps support the local economy by creating additional income for seasonal pickers. Once the drying is completed, the Cep mushrooms are transformed into oleoresin in our extraction workshops.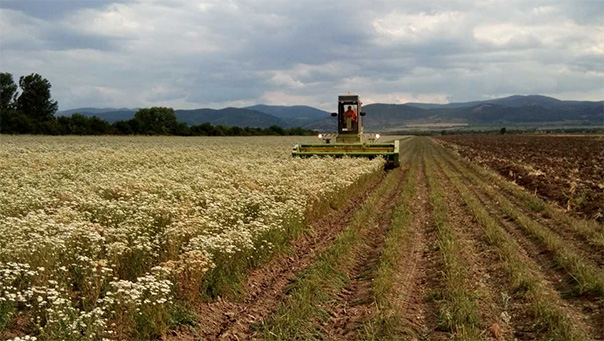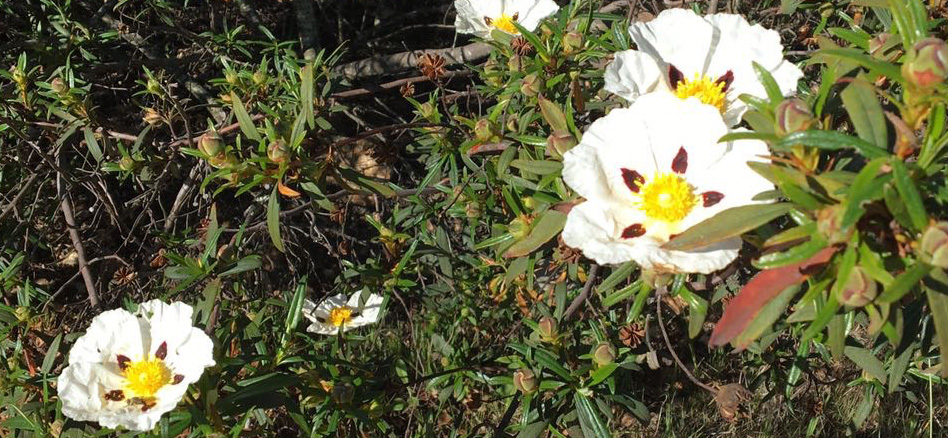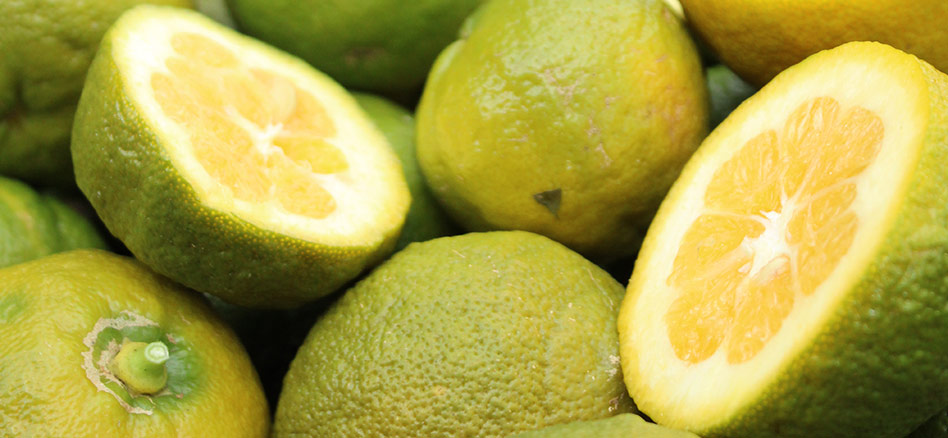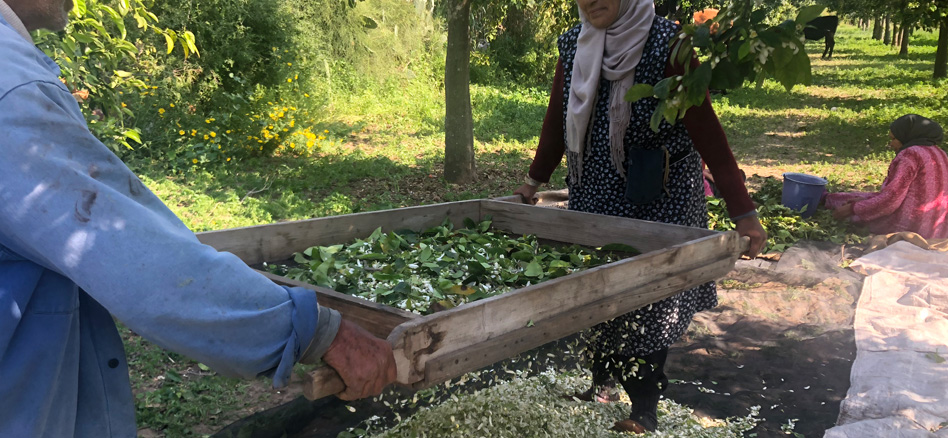 We have been working for nearly 10 years with partners from Egypt and Tunisia to support local orange blossom sectors. The latter is transformed by steam distillation into Neroli oil and Floral Water. In Egypt and Tunisia, the bitter orange trees (Bigaradiers) are also certified organic.
In the south of Italy, we are working with identified partners for our citrus fruit supplies such as Lemon, Orange or Bergamot. The essential oils, resulting from the cold expression of zest, are entirely traced through producer associations in Calabria and Sicily, in the Etna valley known for its unique terroir, to the processing site. The sector values 100% of the tree products and co-products by opening various outlets in Food, Cosmetics or bioenergy.
Cistus Labdaniferus is a Mediterranean plant that grows and thrives in an arid and hot climate. Sourced from the wild, this small shrub with dark, sticky green leaves grows in natural environments that share the soil with olive, pistachio and mastic trees.
With our chain in Portugal, other crops are used to produce essential oils: Eucalyptus, Marjoram, Pine, Rosemary, Sage, Thyme, Verbena.
As the leading producer of Vanilla, Madagascar is at the center of our responsible purchasing policy and of our strategy to develop sectors. Thanks to a complete vertical integration of the Vanilla sector, our agronomic teams are present on site and thus work to set up sustainable programs to produce traced and certified organic essential oils such as Ylang Ylang, Clove, Niaouli, Ravintsara, Geranium.
Our interest in this geographical area started with the cocoa sector. The search for unique wines and aromatic profiles led us to a program to rehabilitate abandoned plantations at the end of the colonial period. Since then, we have been developing the cultivation of other spices such as Pepper, or even a tangy ginger distilled fresh on site using a mobile distillation tool that supports our research and development projects.
The Tonka bean, from South America, is one of the brown notes that we work on as a specialty. Coming from wild harvesting in the forest by indigenous communities or villages, working with communities to develop a know-how and a dynamism around the sector with stable and fair incomes, and developing responsible gathering techniques have been our primary goals. Today, we are expanding our presence in this area to secure our supplies in Ambrette, Peruvian Balsam or Coffee with the same ethics in terms of sustainable development.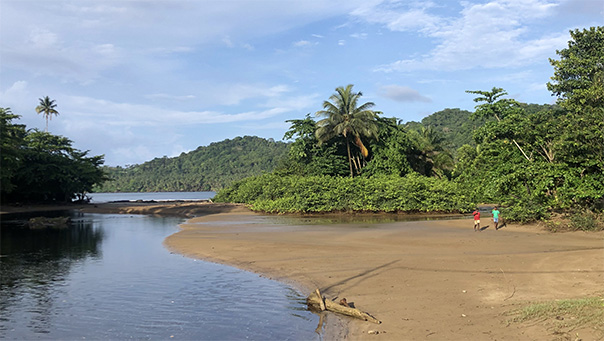 Introduced by the British Empire as a replacement for coffee crops, the tea industry extends to the Ceylon Island, Sri Lanka, making this small country the fourth largest producer in the world. Thanks to a local partnership, we select the best qualities of black and green tea in organic cultivation, according to the plantations' terroirs and altitudes. The Spice Island, as its name suggests, also offers us a range of choices in renewable raw materials, which we trace with the same rigor through our local industry.
Benzoin Siam originates from South East Asia. At the heart of many socio-environmental issues, our Benzoin Siam chain is now experiencing a new boom in Laos with a local partner, native of the Luang Prabang region in northern Laos, which allows us to offer a Benzoin Siam sector fully traced from the benzoin resin harvesting plots. Thanks to a direct signed contract with producers in the Luang Prabang regions, Phonsaly and Houaphan, the sector is built on a fair trade project guaranteeing honest payment and respect for the production cycles.