Our agricultural programs
The group's culture has been founded on the following pillars:
Respect and maintain of the tradition;
Control of the entire production chain;
Eco friendly faming.
The MUL family historically owns agricultural lands in "Pays de Grasse" (France).
Rich of this know-how which has been transmitted during 5 generations, the use of wholly-owned lands guarantees the supply's traceability and security as well as possibilities for innovating on new farming techniques.
Recognizing and promoting know-hows based on local history, as well as on the productions' quality and authenticity, are important values to the Group, which is one of the founding members of an "IG Absolu Pays de Grasse" created in 2020.
In a business where sourcing standardization is a major issue, given the living nature of the raw material, our group benefits from a strategic ranking thanks to the synergies with our farm.
Our expertise in cultivating aromatic raw materials has now been extended to the implementation of agricultural programs outside our group, within our supply chains.
The aim is to guarantee a reliable, tracked and secured supply, the agricultural sectors' organization follows 3 main patterns:
Creating a partnership with producers;
Builiding or supporting cooperatives;
Own establishment of land.
Creating partnerships with local producers consists in supporting and accompanying the installation and exploitation, in particular with young farmers, with the aim of guaranteeing a reliable, sustainable and secure supply of local aromatic plants (PPAM).
Upgrading the profession and the agricultural sector: collaboration with agricultural and horticultural high schools and Apprentice Training Centers;
Training technically the farmers during the plantation's life cycle (preparing the soil, planting, maintenance, harvesting);
Linking with a network of professionals and experts;
Help in carrying out the budget's study and financial support through crop pre-financing;
Commitment on purchasing the entire crop.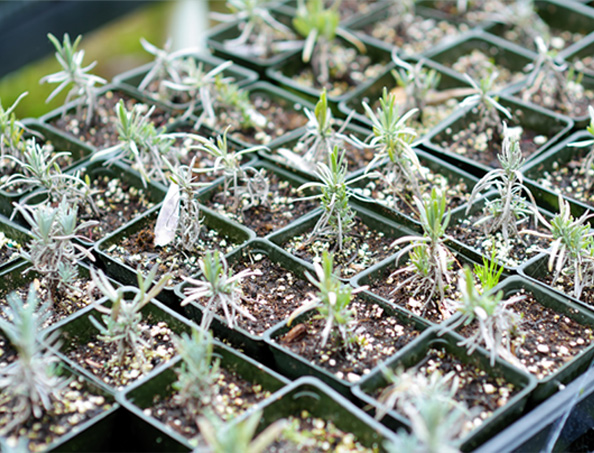 Founded in 1865 around the distillation of orange blossom from the Riviera coast, GAZIGNAIRE, part of the Mul Group, specializes in downstream plants extraction from the Group's local agricultural crops or from imports. Upstream from "taste" and "perfume" businesses, the company is developing a range of extracts and aromatic products thanks to an efficient and versatile industrial facility.
Our team works on developing aromatic solutions suitable for various food applications: conceptions of tailor-made products adapted to each project and its technical, thermal, legal or even budgetary constraints.
Backed by production, pilot units make it possible to validate the industrialization phases in close collaboration with our customers and to develop processes that are always optimized.
Our internal analysis laboratory makes it possible to manage a control plan at each stage of the transformation, from the listing of our raw materials to the release of our finished products:
Organoleptic tests;
Physico-chemical tests: gas chromatography, gas chromatography couple to mass spectrometer, high performance liquid chromatography;
Microbiological test.
Pilot and production equipment for the extraction and distillation of natural raw materials:
Serial soxhlets extractors
Ultrasonic Extractor
Continuous extractor
Hydrodistillators of different capacities
Liquid / powder mixers of different capacities
Rectification and deterpenation columns
To study the products entire life cycle processed on production sites, considering their performance in order to have a complete vision of the production chain.
Process optimization: improve the state of knowledge, provide relevant and reliable information on the environmental impacts generated by these activities.
Assessment and implementation of alternative extraction techniques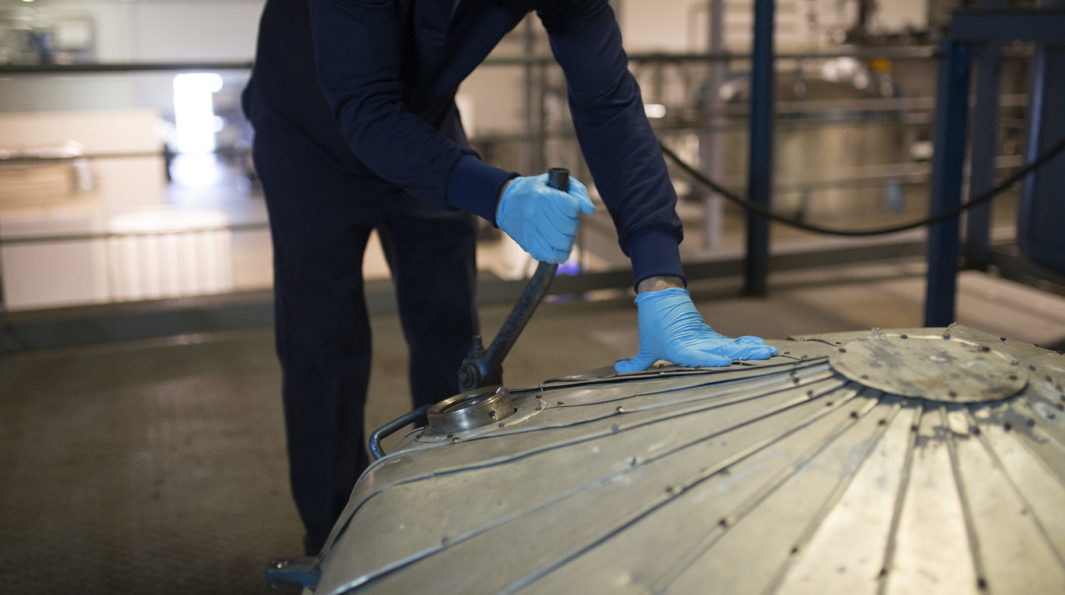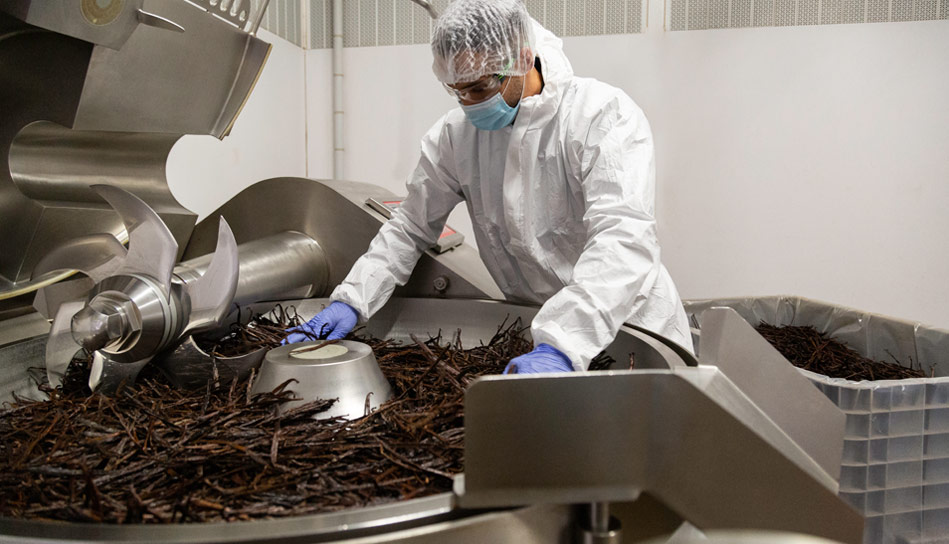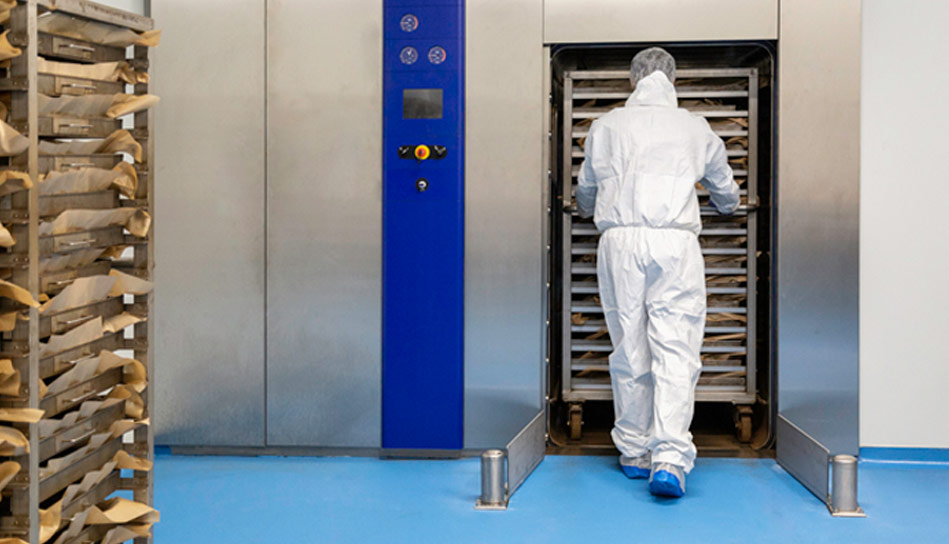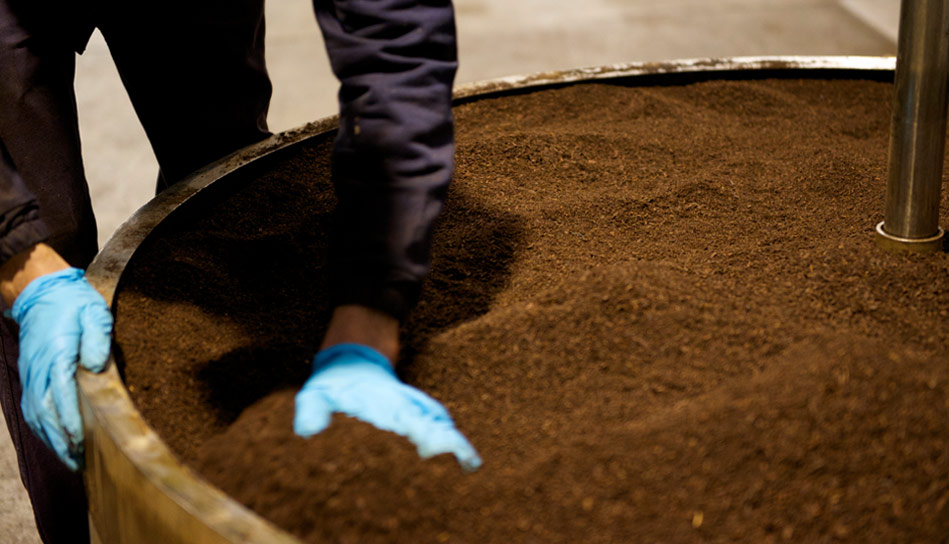 Specialized in plant sourcing to produce our natural ingredients, we have created a production site dedicated to plant treatment.
Drying (oven, dehumidification chamber, solar dryer): we have several low temperature drying solutions that do not alter the quality, aromatic properties and active ingredients of raw materials.
Grinding: We use different types of grinders: cutter, hammer, with high impact. A wide range of materials can be processed: roots, stems, flowers, beans, pods, complete grinding into calibrated pieces or not, or even into powder from all type of grain sizes.
Sieving and custom packaging.
Autoclave sterilization/debacterization, this particularly efficient technique allows to sterilise using superheated dry steam and guarantees the destruction of spore-forming forms. The treated products are not altered and keep all their characteristics (appearance, taste, essential oils content, etc.)
Giving value to by-product from extraction and distillation operations (vegetable grains): it reduces the environmental impact.
A guarantee in conserving the active and organoleptic properties of plant raw materials in accordance with the downstream expectations in food, cosmetics and nutraceutical industries.
GAZIGNAIRE is a link in the food, cosmetics, fragrance and pharmaceutical industries. The quality and safety of our productions are a requirement for our Group, which wishes to guarantee to its customers an incomparable and unique range, because it is selective in the choice of its components, and to deliver aromatic extracts that are safe and give the best satisfaction to consumers.
We have therefore set ourselves the goal to ensure the Quality and Food Safety of our products, from their development until their delivery to our customers.
This goal requires a quality policy which needs to be understood and applied by all our employees on our sites and supply chains. The Group is committed to provide means and resources necessary for the development and continuous improvement of its Food Quality and Safety Management System.
Our production sites are certified: FSSC22000 • OEA • Member du Pact Mondial Réseau France • FDA • Member SEDEX • ECOVADIS (score platinium)