Supporting the ESAT La Bastide
Location : Châteauneuf de Grasse, FRANCE
Duration: Launching in March 2020 – Undefined duration
The context:
The ESAT La Bastide is a social company, part of the AFPJR Association. The ESAT welcomes every day more than 105 disabled workers in different professional activities such as gardening, building maintenance, farming or artisanal confectionery. The ESAT La Bastide has an historical agricultural activity around market gardening and perfume plant on a 12 hectares field.
Historically, the ESAT La Bastide has been cultivating Olive tree and Centifolia Roses. Going on with its activities, the farming activity is growing, facing climate changes issues and new agricultural technics.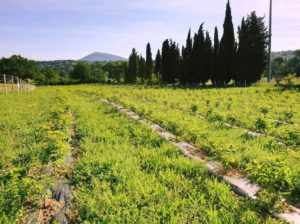 The project:
MUL Foundation is committed through a specific patronage with its founding member, MUL Aromatiques, in the follow up and the technical support of the ESAT La Bastide, regarding its agricultural activities. The project aims to ensure the good development of existing cultivation and extend it in new production field with organic certification.
In march 2020, the implementation of a new Centifolia Roses production on 4500m² has been a strong and sustainable venture for the ESAT La Bastide.
This project is part of a local commitment of general interest in the social, economic and environmental field.
It is conducted in collaboration with V.MANE FILS.